World-renowned artist Charley Harper's memory lives on.
Executive Director Kim Flamm, ArtsConnect in Springfield Township, called Charley Harper's son Brett and talked to him about a sculpture made in Charley's memory. After he agreed, she put out a call for artists earlier this year for a sculpture to be placed on the corner of Winton Road and Galbraith Road in Springfield Township in front of a strip mall.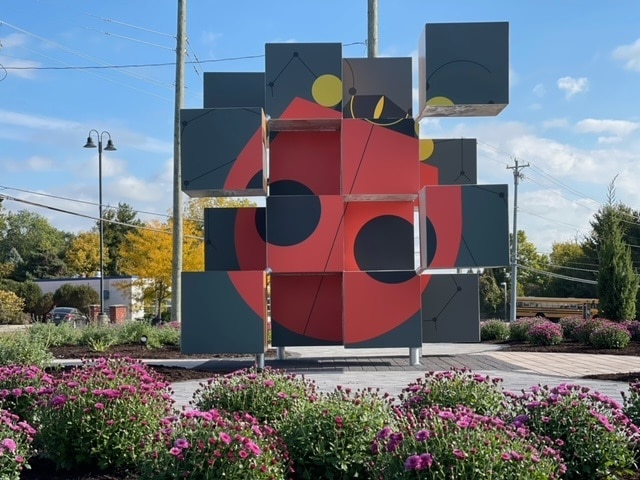 Why was Charley Harper chosen? Flamm said, "It's his brilliant mind – his sense of humor – caring and compassion that get us to our why. He was a world-renowned artist who lived down the road with his wife Edie, also an artist, for over fifty years. His art spanned six decades."
"It is estimated that he created over 5,500 illustrations in that time. His art has been published in magazines, books, murals and posters since the 1940's. Museums across the country display Harper's art today and his most familiar illustrations can be found in boutique retailers adorned on t-shirts, calendars, socks, glasses and mugs," Flamm said.
"An Ohio Arts Council Artist Resiliency Initiative grant was awarded to produce a Charley Harper inspired sculpture… with public input… and a digital component… on one of the heaviest traveled intersections in the county… in under 10 months," said Flamm.
According to Springfield Township Trustee Kristie Dukes Davis, this was the community's first sculpture. She commented about the board's collective initiative for community vibrancy through the arts.
"Harper has the unique ability to look at nature through a very different lens than most. When most nature artists were focused on realism, Charley expertly translated his subjects to their most simple form. His use of color, style and precision simplified the most complex wildlife. He used his voice to tirelessly advocate for nature conservation – something so relevant even today. His work makes you stop, think and enjoy," said Flamm.
Involved in the process were funders the Ohio Arts Council and the Springfield Township Community Improvement Corporation. Brett and his wife Sandy Harper were both on the Art Selection Committee with ArtsConnect as the artistic project lead. A Landscape Team transformed the space. The team consisted of Springfield Township Public Works Department, JPK Landscaping, Go Green Irrigation and Sprinklers.
ArtsConnect placed a call for proposals in January. They received several concepts. The Art Selection Committee selected Micah Landers' design entitled "The Many Sides of Charley Harper" for his creative three-dimensional cube design featuring four of Harper's iconic works to be represented.
Landers said, "Viewed from many directions, this piece is simply a collection of colorful shapes on blocks. Upon further exploration, the viewer finds that the piece resolves itself into four canvases, and that each colorful patch participates as a part of some of Charley Harper's most iconic and beloved images."
Community input played an important role in the final project as 604 votes were cast to choose four artworks featured in the sculpture. Voters selected "Ladybug," the deer featured in Animals in America's National Parks, a children's activity book, "Cardinal Closeup" and the "Cool Carnivore" tiger.


Landers, a Ludlow, Kentucky sculptor, is an apprentice with Douwe Blumberg in Demossville, Kentucky. This is his first public piece. "It's a huge honor," Landers said of his creation. "You will be able to see the sculpture from the car."
Sculptor Landers knew that Harper lived in Springfield Township. He had a five-acre plot he bought in 1958 where he built a house and studio. In his lifetime (1922 – 2007) he created over 5,000 images.
Flamm said, "There was a very tight turnaround on this project. The Ohio Arts Council posted the Artist Resiliency Initiative created to encourage projects that would commission local artists after being so negatively impacted by COVID. It happened to be a time in Springfield Township when we were looking at making over our most heavily traveled community gateway, right here at Winton and Galbraith. Ideas had been tossed around for new landscaping and signage, but when offered an opportunity to do something uniquely "us" through art, we had to take a chance."
"Our township board knows the power of the arts and what it does for communities nationwide," Flamm added. "Undergoing the Creatress mural on Winton Road in 2018 showed us that all public art makes Springfield Township unique and gives our community a sense of place and identity. Public art directly influences how people see and connect with Springfield Township."
Another component of the grant included the task of creating a digital element. A sign will soon be installed with a project description and a QR code. The code will lead you to a landing page where you can learn more about Harper, Landers and Springfield Township. There will also be a series of changing reality games and activities related to the sculpture through Facebook and Instagram. Aaron Cagle, multi-media designer for ArtsConnect, designed the games which will be changed out at times to continue interest in the project.
"The final piece of the project was landscaping completed in record time and on budget. But it's safe to say – just a sculpture placed in grass, in front of a strip mall – would not be the placemaking project without the creative design that compliments and protects the sculpture, while it welcomes onlookers," said Flamm.
Brett is now director of the Charley Harper Art Studio, which carries Charley's work. Brett said, "It's like getting a warm hug from the community. Success has many authors. It's easy to love your neighbor in Springfield Township. Charley would be thrilled by the art."
"The street banner project along Winton, where the township has hung Harper art twice a year since 2016, continues to bring conversation and good feelings. There isn't a fall or spring season that goes by when people don't comment on the banners – and it's always something positive," said Flamm.
"If this project put a smile on your face – once a day as you pass by – this project fulfilled its purpose," concluded Flamm.
ArtsConnect is a non-profit arts organization in partnership with Springfield Township. It operates the Springfield Township Arts Center and most of the township's community events. ArtsConnect also manages public art projects for the township.
For more information, visit www.TheArtsConnect.us/sculpture.