This year, Cincinnati has the honor of welcoming the annual NCECA (National Council on Education for the Ceramic Arts) convention for which the city will soon be awash in scores of related exhibitions. As a result, the Cincinnati ceramics community is effervescent with the idea of sharing this major event with a large and enthusiastic local and national audience. This convention facilitates the discovery of ceramics with its many facets through a multitude of extraordinary and sometimes daring exhibitions. One of these exhibitions is especially surprising, as it is presented inside the greenhouses of the Krohn Conservatory in Eden Park. Seventy stoneware sculptures stand perfectly poised amidst plants inhabiting five greenhouses especially dedicated to cacti, ferns, palms, orchids, and bonsais.
Curator Mary Heider's exhibition title "Ceramicus Sculptus 'Krohn'" suggests that ceramic sculptures inhabiting the conservatory deserve a genus-species all their own, since this unique ceramics species has evolved not only to endure the out-of-doors, but it thrives in garden habitats. In fact, she's particularly knowledgeable about this species, since ceramic sculptures by the three talented artists exhibiting here flourish in Heider's magnificent garden hosting her outdoor sculpture collection. The video Ceramics in a Garden (2020) attests to this. "Ceramicus Sculptus 'Krohn'" is remarkable for numerous reasons. Selected artworks are so carefully sited that they perfectly blend in with their environments, so well in fact, that most seem original to the site, if not hidden from sight. Moreover, each object's intricate details urge viewers to slow down to experience them, thus leading people to spend more time than normal with the plants.

Before even entering Krohn's doors, one encounters Cascade (2013), Robert Pulley's 9' tall modular sculpture, comprised of 51 stoneware forms fitting together like a jigsaw puzzle. This enormous sculpture sets the tone for what lies inside, since it immediately prompts the question "How did this get here?" It's difficult to imagine such a formidable sculpture arising out of the ordinary practice of stoneware. Children visibly have fun being so small in front of this monumental artwork beckoning visitors inside. Each greenhouse features Pulley's sculptures, carefully displayed among its exceptional assortment of plants. Bathed in light and sprouting in the Palm House's fountain, Root (2011) masterfully reveals the sensuality of Pulley's stoneware craft.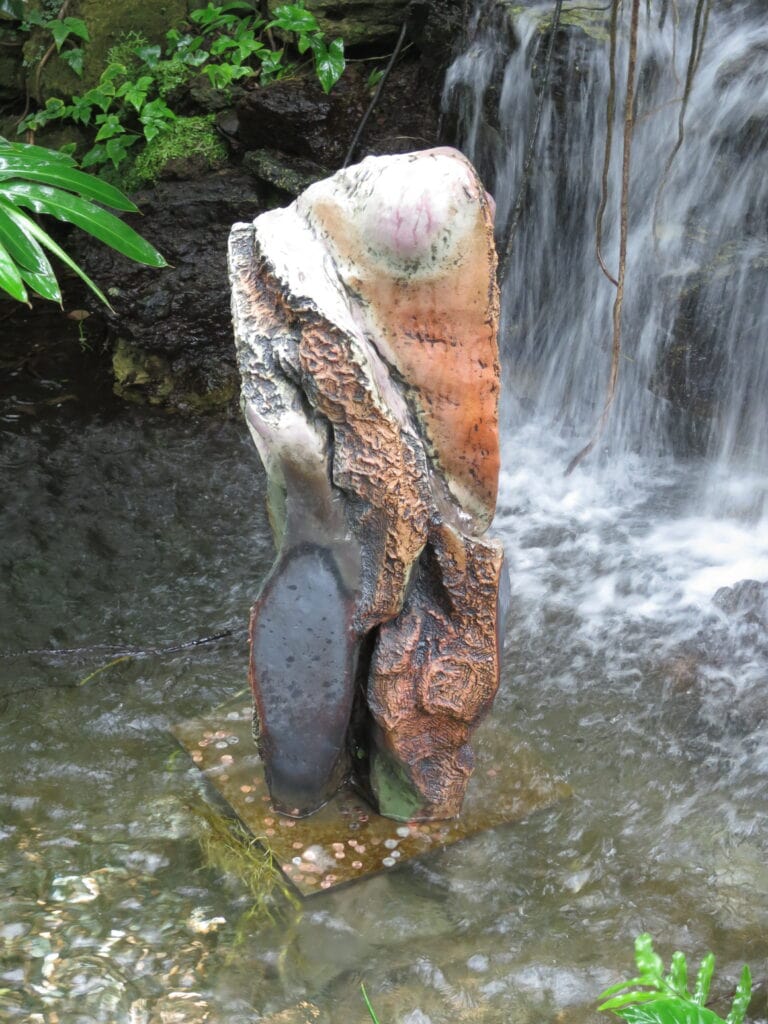 Several sculptures nearby double as vessels such as Medium Basin (2022) and Breast (2021). Pulley's tiniest sculptures (most less than 12" tall), such as From the Mud (2022), Rose (2022), Companion (2006), and Lean (2007) nestle amidst miniature ficus trees, bougainvillea, and euphorbia in the Bonsai House. Objects evocative of boulders such as Dome (2017), Seed (1999), and Geisha (2016) grace the Desert House, whereas objects featuring limb-like protrusions, such as Blue Bud (1999), Diamond Heart (2019), Splinter (2001), and Conic Oculus (2019) inhabit the Fern House.
The first art installation one encounters upon entering the conservatory is Lisa Merida-Paytes' Red Helix (2022), ceramic-paper tendrils taking flight in the Krohn Lobby's airspace. In the Desert House, the cells visible on a stoneware Anemone (2017) blend in among desert plants and are joined by objects affiliated with skeletons such as Skull (2015) and Spine V (2004).
For example, Slick II (2004) evokes the withered remains of a newborn horse or perhaps a crocodile. Nearby, Arch (2010) and Earth Stack (2010) recall the monumental stone forms of either Arches National Park or Bryce Canyon, carved millions of years ago by water and wind erosion. In the Fern House, Merida-Paytes exhibits her characteristic raku sculptures such as Fish Stack (2006), Frozen Fish on Granite (2005), as well as Stringer (2010), a garland made from the skeletal remains of 19 raku fish.
The daughter of a taxidermist, it's little wonder Merida-Paytes has an appetite for skeletal remains and bony fish scraps. Working with "fired" clay affords her the opportunity to "freeze" processes associated with death, such as a body's deterioration, decay, and eventual disappearance.
Roy Cartwright has slipped several larger-than-life stoneware fish into the Fern House's koi ponds. Nearby, one notices the ever-practical vessels Fish Bowl 1, Fish Bowl 2 and Rain Catcher with Fish (all 1998), as well as Two Sisters (1999) causally hanging out as passersby drift by. 
Several of Cartwright's sculptures covered with small enameled fragments of color are sprinkled about the lobby, Desert House, and Palm House. Each has a precious aspect that recalls Antoni Gaudi's fantastic mosaic sculptures occupying Park Güell in Barcelona, Spain. Sited amidst huge cacti in the Desert House is Animal Globe (2006), a stoneware stele decorated with incised animals.
These ceramic sculptures are clearly the result of artists having spent thousands of hours experiencing nature firsthand via either formal methods such as sketching natural forms or informal methods such as hiking and camping. Even though ceramists can easily cast anything, these sculptures are cast entirely from artists' imaginations and sited in ways that make them come alive. It's one thing for a curator to fantasize how amazing specific artworks would look placed in a particular setting, but it's an altogether different story to convince a nonart venue to host art, and yet another story to figure out how to install heavy ceramic sculptures in desired sites. It goes without saying that "Ceramicus Sculptus 'Krohn'" is a curatorial tour de force. No doubt, each of the seventy curatorial decisions were collaborative. It was as much the curator's recommendation as each artist's effort either to put it in place or to propose a more suitable site.
This is a special opportunity to acquire affordable artworks, either for one's indoor collection or to brighten up one's garden with unexpected curiosities.