Dec. 13, 2022–April 6, 2023
Gallery 213
In Three Generations of Japanese Printmakers: The Yoshida Family Legacy, Curator of Prints, Kristin Spangenberg, has assembled a small but striking exhibit in Gallery 213 of Japanese woodblock prints by a family of seven artists. It draws from two major collections at the museum and recent acquisitions. She offers us a fascinating perspective on the 20th century evolution of Japanese printmaking from shin-hanga (new prints) to sōsaku hanga (creative prints), from realistic to abstract.
Each Yoshida artist expanded the traditional Japanese woodblock print tradition. The family legacy began in the mid-19th century with Yoshida Kasaburō (1861–1894) who taught Western-style painting. Kasaburō's daughter, Yoshida Fujio (1887–1987) painter and printmaker, married fellow artist Hiroshi (1876–1950), Kasaburō's adopted son. The first generation, Fujio and Hiroshi, passed along their artistic practice to a second generation, their oldest son, Yoshida Tōshi (1911–1955) and his wife, Yoshida Kiso (1919–2005). Yoshida Hodaka (1926–1995), Fujio's and Hiroshi's second son, married the artist Yoshida Chizuko (1924–2017) and they continued to practice printmaking. Their daughter, Yoshida Ayomi (b.1958), represents the family's third generation of printmakers.
Follow me along the gallery to enjoy the prints illustrated in this article and a few more of my favorites. Begin at the end of Gallery 213 that connects to Gallery 231. We'll then proceed along the hallway to your right.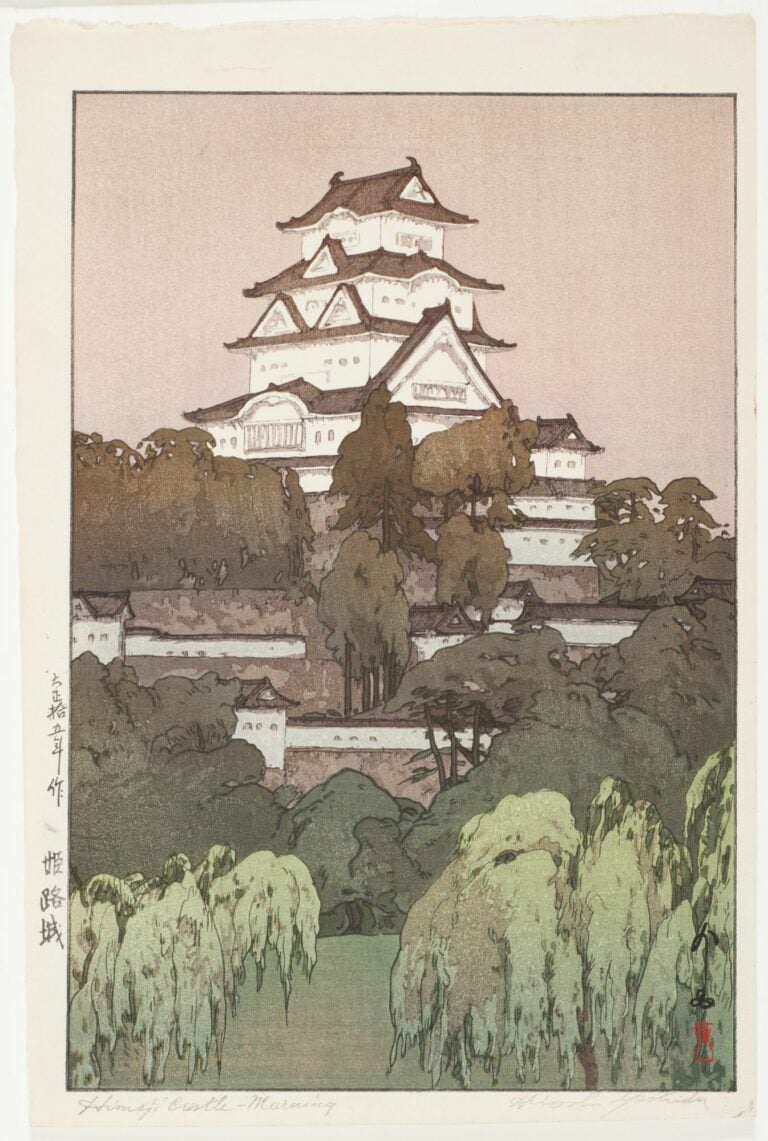 The first set of prints is by Hiroshi Yoshida. Kasaburō taught Hiroshi western style painting which had been an established style in Japan since the mid-18th century. But by age 24 Hiroshi had moved to printmaking and established his own studio. Traditionally Japanese publishers hired the artist, specified the design and contracted out the cutting of the blocks and printing. Hiroshi now controlled the creative process which became known as shin-hanga. He is best known for his Japanese landscapes and creating prints of famous sites as far-flung as the Taj Mahal and America's Grand Canyon.
In Himeji Castle in the Morning soft natural colors frame the tall white castle donjon known as "The White Heron or Egret" because it looks like a bird about to take flight from its hilltop. Compare this print with Himeji Castle in the Evening. Hiroshi expertly captures the soft tones of dusk. You'll also enjoy other famous scenes in Japan, including Mount Fuji and Nikko, the great shrine dedicated to the first Tokugawa shogun.
Hiroshi taught his first son, Toshi, printmaking techniques. At first Toshi continued his father's style, lyrical landscapes with atmospheric effects. Umbrella is a good example of that period. However, after his father's death in 1950, he forged his own path and created semi-abstract compositions. The above No. 6 is an example. He took more control of the creative process, cutting and printing his own blocks, the style known as sōsaku hanga, creative printmaking. Toshi traveled widely, across the United States in 1967 and Europe and the Middle East in 1968. Indian Village, New Mexico and Unknown are bold examples of his independent landscape style which emphasizes the horizontal and gradations of muted colors. In the 1970s he pivoted again, turning to the traditional Japanese bird and flower compositions as we see in the delicate Hummingbird and Fuchsia.
Continuing along the gallery, the next print is by Kiso, Toshi's wife. Printed on a silver ground, the composition shows a bold cresting wave under a full moon. Kiso came from a wealthy Kyoto family and learned traditional Japanese arts such as tea ceremony and flower arranging. She excelled at the ancient art of bonseki, manipulating white sand and white rocks with a feather on a black lacquer tray to create temporary miniature landscapes and seascapes. Perhaps a bonseki design was the inspiration for this print. One of my absolute favorite prints in the exhibit is by Kiso, Moon and Plum Tree. She caught the energy of calligraphic stokes in the twisting trunk of an ancient pine tree. Kiso only created a limited number of prints as for decades she served a business manager of the Yoshida studio.
Hodaka was the second son of Hiroshi and Fujio. Hodaka's compositions evolved through nine recognized styles. Buddhist Statues is from his second style. It represents a typical statue of Kannon, the Goddess of Mercy and Compassion, the most popular bodhisattva (enlightened being) in Japanese Buddhism. After traveling to Mexico, his compositions took a new turn, inspired by Aztec and Mayan architecture, as you see in Mexican Sacrifice and Small Village. Image form 1956 is unusual. It's abstract, but look closely and you might begin to see a kanji character or a samurai with a sword. In 1970 he pivoted again, creating landscapes, but now combining woodcuts with photo-etching. His Landscape C-E, 1972 portrays the devastation of pollution on the environment.
Fujio was Hiroshi's wife and the matriarch of the Yoshida family. She learned painting from her father and she excelled at both naturalistic and abstract watercolors, oils and woodblock prints. She traveled together with Hiroshi to America in 1903-1905 at age 16 and was an instant phenomenon admired for her graceful watercolors of Japan. She helped found an art society for women and traveled the world with Hiroshi. After raising her children, she returned in 1949 to oil painting and in 1953 to woodblock printing. There are three semi-abstract woodcuts in the exhibit, the above Flowering Kale, and Ginger and Lady Slipper Orchids. Compare her different approach to each subject and enjoy the variety of compositions, abstraction and especially colors.
Chizuko was an established painter when she met Hodaka Yoshida at a gathering of art intellectuals. They married in 1953 and after that she began creating woodcuts in a wide range of styles. She joined the family on international trips which inspired her woodblock prints, incorporating colors and forms seen abroad into her work. Jazz, above, plus Rainy Day (Jazz Series) illustrates her playful use of colors and shapes in abstract prints. Later in the 1970s she used embossing to add depth and texture. The intense colors of Blue Scene contrast beautifully with the pure white embossed waves. Butterflies, Foggy Evening is totally different. Delicate densely packed butterflies flutter against a hazy background.
Ayomi is the third generation to carry forward the Yoshida legacy, following her mother and grandmother. Based in Tokyo she is also an installation artist and designer. Her abstract prints push the boundaries of the woodcut, breaking stylistically from her family's work. Work by Line V-EPK contains densely packed colors that almost pop off the paper. There are two prints from her Surface series based on photographs that she took of rivers in Tokyo. Surface K.O – Kandagawa Ochiai mimics the variegated hues of the river surface affected by runoff from the region's homes and factories. She captures the impact of a storm on the river in Surface K. Y. Typhoon. Ayomi chiseled intense abstract rhythmic patterns as part of meditation practice in White Marks C.R.A.-60. Fujio, Kiso, Chizuko and Ayomi are an unusual artistic accomplishment in Japan, three generations of women artist.
The Yoshida Legacy exhibit is well worth a visit. The intimate space of Gallery 213 affords you the opportunity to enjoy up close the creative visions of a family of outstanding Japanese printmakers.