The Dayton Art Institute's two current exhibits, Born of Fire: Contemporary Japanese Women Ceramic Artists and Washi Transformed: New Expressions in Japanese Paper, contain a wealth of artworks to delight you. From subtle to bold, serious to playful, you'll enjoy seeing many fascinating creations. The design of the galleries of ceramics and works on paper, from sculptural and decorative ceramics to prints and paper installations, is an additional treat. The two exhibits are on view until September 17, 2023. Let's walk through the shows and explore a few of the highlights.
Born of Fire features a diverse selection of fifteen ceramic works by both emerging and internationally established artists. They are a testament to the technical and aesthetic achievements of the women. According to the Dayton Art Institute (DAI), "Their artworks break barriers and forge new ways of creating and thinking about ceramics that reflect changes occurring in contemporary Japanese art and society."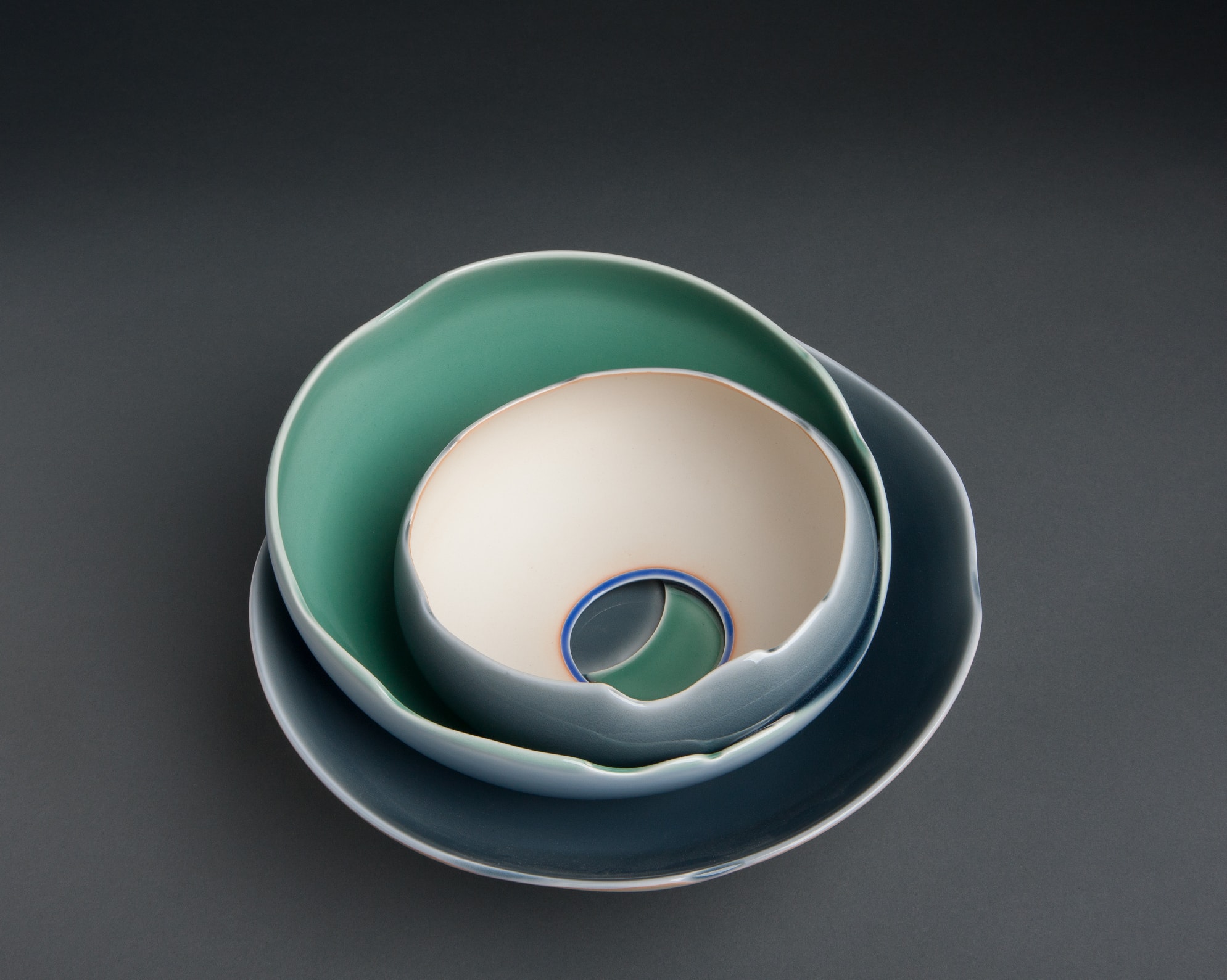 Warm yellow walls welcome you to the Born of Fire gallery, a gentle fire-colored background for the first part of the exhibit where Tsukikage (Moonlight) by Fukumoto Fuku (b. 1973) greets you. It's a delicate interplay of colors and shapes. The central form is unglazed porcelain surrounded by shiny glazes of teal and powder blue. Fukumoto is inspired by the heavens: the moon, sun and stars. Two prominent features of her work are openings and layering.
As you move through the exhibit, the walls become a to bright fire engine red, a perfect background to Matsuda Yuriko's playful work, In Her Shoes. Matsuda (b. 1943) uses irregular forms, parody and exaggeration in works that range from ceramic feet and teapots resting on bananas to roller skates and female body parts. She embellishes many of her works with red enamel and gold kinrade (Japanese brocade-like detailing) echoing traditional Japanese Imari export wares. Matsuda pushes decoration on porcelain ware to new lengths.
You'll also see ceramics with earth tones and textures. Katsumata Chieko (b. 1950) is famous for her globular organic shapes, such as Untitled, stoneware with orange and green glazes, the color, size and shape of a small pumpkin. Katsumoto received a grant to study industrial design in France, but met an American potter who inspired her to pursue a career in ceramics. To achieve the varied colors on this form, Katsumata covered the form with a thin piece of cloth through which she repeatedly applied colors, fired the vessel and applied colors again.
Toward the end of the gallery, you'll encounter Mizuho (Young Rice Shoot) by Tokuda Yasokichi IV (b. 1961). Tokuda is one of the few female heads of a traditional potting family. Her father, Tokuda Yasokichi III, a National Living Treasure, chose to pass on the family's name and practice to her. Ms. Tokuda follows the revered Kutani ware traditions that include saiyu glazing. In the gallery you can see this artwork from many angles, enabling you to study the beautiful transitions from bright yellow to deep blue. Admirers of Japanese woodcut prints will recognize the bokashi technique of applying colors.
Born of Fire is drawn from the renowned collection of Carol and Jeffrey Horvitz and was organized by the Crow Museum of Asian Art of the University of Texas at Dallas. If you can't get to Dayton, the Cincinnati Art Museum has an exhibit of contemporary Japanese women ceramic artists in Gallery 136. You'll be able to see works by Fukumoto Fuku, Evening, and Tokuda Yasokichi IV, Jar, plus many other accomplished artists.
As you step into the next gallery, soft colors set the stage for Washi Transformed: New Expressions in Japanese Paper. The exhibit explores the astonishing potential of washi, traditional Japanese paper, in thirty-five highly textured two-dimensional works, expressive sculptures and dramatic installations by seven female and two male Japanese artists. From the DAI, "The breathtaking creativity of these artistic visionaries deepens our understanding of how the past informs the present and how it can build lasting cultural bridges out of something as apparently simple and ephemeral as paper."
Subtle works dominate this first room. Texture and form are the two main forces. There are three artworks by Yuko Nishimura (b. 1978) of folded paper that range from reliefs to three-dimensional. Ms. Nishimura reports, "I do not limit myself to the category of origami but consider the pursuit of any possibility of folding paper." Line Transformation 01, 02, 03, is a pleated paper relief of three panels that fascinated me because as you view it from different angles, it transforms from one design to another, especially the middle panel. It's not surprising to learn that Nishimura graduated with an architectural design degree.
When you turn the corner into the next room, you're confronted by flaming red forms. Are they earthly or alien? Kazuko Ishii (b. 1952) weaves together mizuhiki, Japanese paper strings, into single sculptures and arrangements of multiple sculptures that made me think of friendly little red creatures dancing to delight me. There are also pieces of lightly cream color mizuhiki that brought memories of harvested rice fields, the plant stalks marching in rows in early morning light.
Once Upon a Time #1 by Kyoko Ibe (b. 1941) gives you a peek into the power of the artist's work. She combines recycled antique gampi paper, document fragments, sumi ink, and mica, to create expressive layered works. But it's her pair of large six-panel screens, Morning Glory #2, that are the star of the exhibit for me. Dark washes of color drip from the top and morph into a light wash on the bottom, overlaid with slashes of black. Scattered across all the panels are fragments of paper with Japanese kanji in dark sumi ink. My impression was of ashes from an urban fire floating up from the flames. Of my two companions, one read it as a tsunami and the other of kites flying in a storm. How wonderful that there is such a range of ideas evoked by the artwork.
Be sure to immerse yourself in the installations in the last gallery. Ayomi Yoshida (b. 1958) is a print maker, designer and graphic artist who created Blessed Rain, a room-sized installation that surrounds the viewer with tall panels of deep indigo paper. Look closely and you'll see the printed rain drops and drips of a storm. Yoshida encourages us to take action to stop the climate change that is causing annual rain-related disasters in Japan. You can see photos on the web, but they don't do justice to the emotional experience of being in the center of Blessed Rain. Ms. Yoshida was featured in an article, Three Generations of Japanese Printmakers in the February 2023 Aeqai.
Washi Transformed is organized by Meher McArthur and is toured by International Arts & Artists, Washington, D. C. The DAI is the only Ohio venue to present the artworks.