Roberto Lugo : Hi Def Archives March 17–September 24, 2023
Cincinnati Art Museum, Cincinnati, Ohio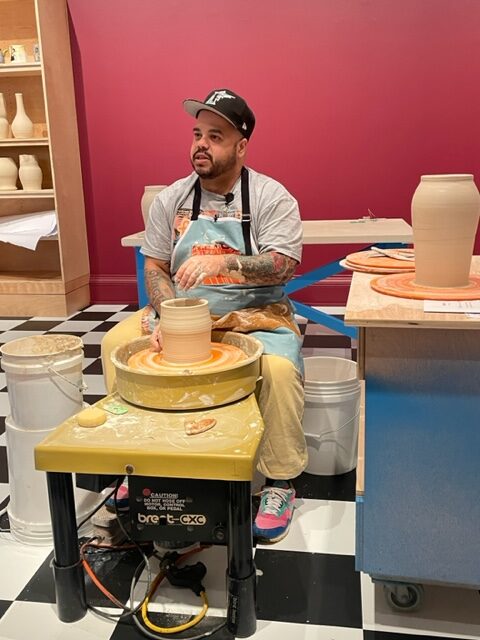 While the motto in real estate is "location, location, location," an important motto in the minds of many current art world movers and shakers is "identity, identity, identity." The Cincinnati Art Museum has really stepped up in this regard yet again1 by inviting Philadelphia-born artist Roberto Lugo to a two-week residency right in the museum in the Sarah and Michelle Vance Waddell and the Manuel and Rhoda Mayerson Galleries during the Annual Conference for NCECA, the National Council on Education for the Ceramic Arts, held in Cincinnati in March of this year. Cincinnati's Rookwood Pottery is known throughout the ceramics world here in the U. S. and the conference, as well as Lugo, have embraced the history and the aesthetics of Rookwood Pottery as a bonus while they all are in Cincinnati. The museum is also showcasing Lugo's powerhouse ceramic pottery and sculptures along with pertinent ceramic work from the museum's collection during a seven-month solo exhibition, Roberto Lugo: Hi Def Archives March 17–September 24, 2023.
Why is the notion of identity important? Identity Art,2 beginning in the twentieth century, had its starting point in the questioning of the art world's gate keeping that excluded non-dominant groups from participation. In the 1960s, both second-wave feminism and the civil rights movement exposed how discrimination and prejudices based on gender and race worked in upholding the dominance of white, male, heterosexual artists, curators, and arts patrons. Although operating rather like parallel tracks at first, both movements created ripple effects that would converge in later decades. Think of artists like Judy Chicago and Miriam Shapiro, the two artists/faculty at California Institute of Arts (Cal Arts), who formed Women House in 1971 and forged a powerful awareness of women's marginalization in the moneyed art world. The Feminist Art Program they developed was without adequate space when classes started. This resulted in the student-led takeover of an abandoned Victorian house in Hollywood and creating the Womanhouse 3 installation throughout the house. Then the Guerrilla Girls formed with protests and posters, and there were special exhibits and feminist critical reviews and a wealth of activities that galvanized women artists. They helped burst the dam of male hierarchy, although much of this second-wave feminist activity was still viewed as white feminist activity.
In terms of identity and marginalization, an even older generation of African-American artists like the revered Jacob Lawrence and Romare Bearden and artists like the lesser-known woman sculptor Meta Warrick Fuller, helped create and invigorate the Harlem Renaissance in the visual arts. The identity of these African-American artists in creating artworks true to their culture, neighborhoods and experiences was apparent. Others followed. Benny Andrews, who attended the Art Institute of Chicago and produced a range of significant political works, became highly influential during the Civil Rights movement. Andrews's artwork was a direct reflection of the plight of African-Americans in the United States. Other black artists took matters into their own hands in the Jim Crow South. The Florida Highwaymen in the early decades of the twentieth century threw down their farmhand tools and picked up paint brushes to earn a better living, several of them having learned landscape painting under the inspired tutelage of Alfred Backus, passing the knowledge on well into the 1960's.
So it happens that Roberto Lugo, at the age of twenty-five, having moved to Florida to stay with extended family and escape the path some cousins took that landed them in prison, enrolled in his first pottery class. According to Roberto, his instructor, Jake Swalding, ceramics professor at Seminole Community College, saved Roberto's life. Pottery was fully hands-on, tactile, and grounding. Lugo exploded under Swalding's mentorship, going on to receive a BFA from the Kansas City Art Institute and an MFA from Penn State. Lugo is now an Assistant Professor of Art at Tyler School of Art at Penn and heads the Ceramics Department while still taking his potter's wheel back into his old neighborhood to inspire kids. It is as if he was catapulted from the rough streets of Philly to the top echelons of the art world. For example, he is the recipient of a coveted and prestigious 2019 Rome Prize for his highly charged, highly illustrated, riotously glazed ceramic artworks.
When you enter the gallery of Roberto Lugo: Hi Def Archives, curated by the museum's Amy Miller Dehan, what looks like a standard – though brightly colored – ceramics exhibition falls away quickly. We have common expectations. We have a relationship with ceramics, with pottery. Cups or mugs for drinking, plates for eating, or porcelain lamps, like the ornate, gilded Bavarian lamp decorated with fanciful symmetrical sea creatures on the table next to me as I type. Lowbrow to highbrow, we embrace clay in its many forms and this is exactly the range that Lugo embraces in his artwork, as everyone soon discovers as they look more closely at Lugo's vases, bowls, teapots and lamps.
What looks like a pair of matching fanciful lamp in the exhibition is actually a story, a commentary on gang life in Philadelphia. Like my Bavarian lamp, Lugo's lamps show symmetrical portrait heads of famous former gang members, each wearing the colored bandana representative of each member's gang. This isn't your auntie's kind of lamp. Roberto said during our interview, "Given the time in the world we live in, this work makes sense." I discussed how painter Kehinde Wilde rose to fame making paintings using classical compositions of white European aristocrats that he supplanted with local young men of color from the streets. He elevated their stature to that of the noblemen whose poses they replicated. The Cincinnati Art Museum, through the Ragland Family's generosity, recently purchased Wilde's "Two Sister," a monumental double portrait based on a similar historical painting of 1843, of two sisters by Theodore Chassériau's that hangs in the Louvre. Identity at full throttle.
Bootsy Collins and Kathryne Gardette Teapot, 2022, Roberto, glazed stoneware, luster, Courtesy of the artist. © Roberto Lugo. Photographs by Ashley Smith, courtesy of the artist and R & Company
Lugo's two-week residency, his actual presence in the museum working at the pottery wheel the first week and decorating the bisque-fired wares the second week, was a raging success. Student groups from as far away as Lexington and Louisville, Kentucky came to Cincinnati to see Roberto at work firsthand. The room was abuzz with conversation, questions which Roberto graciously answered while he was forming or decorating his ceramic ware. The walls were custom-papered with Lugo's take on the Arts and Crafts movement's best-known designer, William Morris. Into the thick of entwined branches and flowers he created for this exhibition, Lugo has incongruously inserted his own spirit animal, a panda. Lugo is unafraid to mix it up, to honor a master like Morris, and yet make it personal and fun.
Can we say art can be fun in an art museum? Look at Roberto's teapot dedicated to our own black artists/activists Bootsy Collins on one side. The teapot looks like the mash-up it is, a bit arts and crafts, a bit blue and white china painting, a bit graffiti, a bit Pop-inspired portraiture. That is a lot to mash together and Lugo does so with a sure hand and even surer purpose with his underglaze brushes. Unfortunately the teapot is topped off with a raised Black Power fist as the teapot lid handle, which unfortunately takes away from the exuberant feel of the piece. The fist is inappropriate for the subjects featured on the teapot but appropriate in other more political or militant contexts. Why not a disk as the knob of the lid? On the side of the pot with Bootsy's portrait, it could be a record and the other side for Katherine it could have the letters 'KG' or a symbol of her artwork. In all his works, it is clear that while he may be a potter, he is a bona-fide storyteller.
The stories he tells resonates with everyone. He made a substantially sized vase, called an amphora (from ancient Greece) that memorializes Kobe Bryant. This amphora may very well bring tears to your eyes. This portrait of Kobe, painted in black on a multicolored ground of mostly African flag colors, is worlds away from the kind of black and white portraits renown painter Gerhardt Richter made called October 18, 1977, when he exploited the sensational tabloid pictures of the jailed Red Army Faction members two of whom committed suicide while in jail. Richter's portraits are conceptual, cold and calculating, and highly successful. Lugo's portrait of Kobe is reverential, with Lugo capturing a soft facial expression as if Kobe is looking at us with great sadness as he was so tragically separated from his family forever. Roberto Lugo's portrait-based ceramics are highly successful and just as importantly, heartfelt.
Is there anything to criticize in Lugo's ceramics? Lugo spoke with awe about some of the exceptional ceramists he would meet up with who were attending the national ceramics conference in Cincinnati. Lugo spoke of various nationally famous ceramists who were masters at wheel throwing and glazing which Lugo admits he is not. Lugo is remarkably self-aware. Aware that he is not the best ceramist in America. Yet his artwork gives us thoughtful, serious and sometimes fun images couched in riotous colors, sexy luster glazes and harlequin color combinations. Lugo mines politics, everyday life; his past and present with his own family and gives us thought-provoking art works that happen to be made of clay. And to my knowledge, he is the only ceramist to win a Rome Prize.
1. An engaging program by the museum of recent exhibits for 2022 featuring artists of color include Natural World, Gee Horton's Coming of Age, Black and Brown Faces, David Driskell: Icons of Nature and History (I reviewed for Aeqai), Working Together: Photographers of the Kamoinge Workshop, Kara Walker: Cut to the Quick.
2. Key thinkers who contributed to this critique include Frantz Fanon (a psychiatrist, writer, and philosopher from the French colony of Martinique), who wrote about the experience of being an oppressed black person living in a white-dominated society; Edward Said (a Palestinian-American professor of literature), who developed the field of postcolonial studies and is best known for his book Orientalism (1978) in which he critiqued the Western world's cultural representations of the "Orient" (historically meaning what is now northern Africa and the Middle East); and Homi K. Bhabha (an Indian critical theorist) who further developed Said's theories pertaining to postcolonialism. The Civil Rights movement and critical theories of race, ethnicity, and postcolonialism all have greatly informed artists working on various aspects of identity to the present day.
3. WomanHouse became a symbol of second-wave feminism and catapulted both founders into the spotlight in the 1960's and onward.