The Cour Fanton (Rencontres bureau) awaits its next conference (photo by author)
The opening conference of the 53rd Rencontres de la Photographie d'Arles (Photography Meetings in Arles, France) took place in the tree-shaded courtyard of the festival offices and was attended by Arles' Mayor, the Rencontres' director, several governmental ministers and an international audience of various hotshots and press. No sooner had I arrived and donned my translation headset than I heard "Hello, Bill" seeming to come from very near by. I turned around but there was no one there. The voice then said, "Where have you been?" I looked around again, wondering where it was coming from before realizing it was coming from my head (a.k.a. the headset). I then saw the Rencontres' translator about 10 meters away speaking into her microphone and looking at me. "How many years has it been since you have been here?" she continued. I mutely raised four fingers and she said "Four years! Well, welcome back." It was a surreal moment and one peculiar to this particular international festival, photography's oldest and largest, that moments before the start of the opening conference the translator can single out a remembered face to say hello – and the non-francophones already wearing their translation headsets get to learn that someone named "Bill" is back. It's a kind of informality that takes over once July begins in the south of France as Paris empties (of Parisians) and festival season begins.
This 53rd Rencontres was my 40th, having been a participant since 1976 – a longer allegiance than that of any non-French attendee (that I know of) and all but a few French folk. I wrote the first major English languish report on the Rencontres in 1976 (although, by the time it was published, in '77, it became the second) and over the next decade significantly helped publicize it to the non-French speaking world. That first year I climbed over fences to sleep in the local parks, as I had effectively stumbled on the festival and the hotels were already full. This year I had an apartment.
Thinking it over I realize it actually had been seven years since I'd been back in Arles for les Rencontres. I missed a few years for medical reasons, two more during the Covid-19 pandemic, and could not find a bed to rent for the 50th Rencontres in 2019; all of which meant that by 2022 there was almost no one connected with the event any more whom I knew, or who knew me. I'd had a longstanding and excellent relationship with director Francis Hébel, but since then there have be two new directors: the first of these was the former director of the Musée de l'Elysé in Lausanne (whom I knew only slightly) and the current director, Christoph Wiesner (whom I knew not at all). Wiesner previously was the director of Paris Photo, probably the foremost photography fair on the planet. In consequence there were no longer invitations to the various openings, meals or other special events waiting in my name, and my press pass (not so easily obtained) permitted entrance only to exhibitions not even the Rencontres' important evening programs (called "Spectacles") that used to be included. I hadn't even been hired to review photographers' portfolios this year, something I'd done virtually every year since my first. So this lone greeting, shared with those receiving the English translation, was much appreciated and partly dispelled the sense of having disappeared in a place that was as familiar to me as my hometown. Fortunately some of the restaurants I remembered enjoying in years past were still there.
Ready for my first evening's meal at La Bohême (photo by author).
The gratis, opening "soirée" (basically a dance party) took place by the river that night, July 4th, almost exactly where Vincent van Gogh had painted his first Starry Night painting in 1888 and steps away from where his yellow house and the bar he painted once stood. Decades earlier I happened to be interviewing Arles' mayor when an aide briefly interrupted the interview for the Mayor to sign the actual forms authorizing tearing down both the bar and house to construct a traffic circulation roundabout in their place. What was unimaginable to me seemed expedient to him. Years later, after most of the town's major industries had closed, and the longtime Communist town had swerved politically right, van Gogh would become Arles' bread and butter (or baguette and olive oil) as tourists arrived in search of his traces. There is not as much to show them as there might have been, and none of his paintings. I've often wondered why the roundabout couldn't have been placed 10 or 20 feet closer to the entrance to the city; just how deliberate had been the decision to demolish chez van Gogh? (When you read about the absence of van Gogh's house it is usually lumped in with the war-time destruction of a nearby area of Arles by Allied bombers as they attempted – successfully – to destroy the main bridge across the Rhone. But my story is that it was a local government decision, decades later.)
When I think about this part of Arles and van Gogh, I remember a (possibly apocryphal) story I'd heard about Vincent, impoverished and hungry, asking a nearby cafe owner whether he could take some meals there, which he'd willingly eat in the kitchen unobserved by cafe-goers, even if only left-overs which otherwise would have to be thrown out. He would pay with a painting… for each meal! The cafe owner consulted with friends, all of whom advised him to refuse, as it would just encourage the much disliked and presumed crazy foreigner to stick around – so he turned the painter down. Van Gogh painted more than 200 paintings and 100 drawings and watercolors during his brief 15 month stay in Arles. Had that cafe owner been slightly more generous, his heirs might now be among the wealthiest families in France and Arles an extremely prosperous town (possibly even the site of the Van Gogh Museum, rather than Amsterdam). The generational fate of a family, a town and to some extent France itself turned on a tiny act of kindness un-dispensed. Seems an obvious lesson there.
At the party by the river I encountered Wolfgang Zurborn, the Köln photographer whose work was exhibited in 2021 at Iris in Cincinnati. "Wolfie" has perfected the art of dancing wildly almost entirely from the the waist up, while his lower extremities remain firmly anchored to the ground. Nevertheless, he is a dancing machine and sensation, usually surrounded by cheering females of all ages (even he admits "I still don't know why."). He's also an internationally esteemed photographer and teacher. Unfortunately, someone must have intentionally danced too close to him that night, as it ended with his phone missing. The following morning he was able to track the phone to Marseilles, an hour's train ride away; so the opening soirée was likely targeted by pickpockets from that port-of-bad-repute to the south-east.
The morning of the festival's first full day I attended the usual panel in the courtyard of the Rencontres bureau, scheduled for 10 to 11 AM. Around 10:45 I was leafing through the handbook of Rencontres information I'd just picked up to decide what to do first and discovered the openings for Mitch Epstein's and Wang Yimo's exhibitions would take place at 11 – which would have worked fine except that they were at the medieval Abbaye de Montmajour, about 4 miles out of town. The small print revealed there had been free shuttles to the event at 10:10, 10:30 and 10:45, leaving from in front of a hotel about a ten minutes' walk across town – the first of many just missed connections.
A week passed before I finally was able to get to Montmajour, navigating the local buses' contradictory scheduling information. I managed to catch the correct bus from a bus stop at which it was not indicated, after several locals told me there was no bus from there to Montmajour, or perhaps, one person thought, there had been one, but only one, which I'd already missed. Fortunately I saw the correct bus and was able to flag it down. I credit the website rome2rio.com for having put me in the right place, despite so much local information contradicting it.
The Epstein exhibition at l'Abbaye was In India, early color work he'd made while living there between 1978 and 1989, effectively a reevaluation (or, as he says, "a rereading") of his contact sheets done during the recent pandemic years. Two thirds of the work had not been exhibited or published previously (there's a 2021 Steidl book). I'd have liked to ask him how the work seemed different to him in the succeeding 30-40 years; what does he find in it now that he didn't then; what does he recognize of himself in it and what may it have taught him? Certainly photographing in India loosened him up photographically (and doubtless in other ways as well), as he writes that just being there gave him a "humility" he had not acquired to that point, as a middle-class, white,1950s-born American male. I was somewhat surprised by how often he used flash to make this work, not only inside but outside. Also likely affecting the photographing was his working on films at the same time, including as Director of Photography for the 1985 documentary India Cabaret and as Production Designer, Co-Producer and Cinematographer for the Caméra d'Or winning Salam Bombay, released in 1992. Both films were directed by Mira Nair, Epstein's wife until 1987 (they met taking photography classes at Harvard in the '70s). The latter film was characterized by using, as principal actors, street kids on the Falkland Road (the red light district also photographed by Mary Ellen Mark). A detail from one of these photographs was used for branding in the Rencontres poster. You can see other examples from the exhibition here: https://mitchepstein.net/india-intro.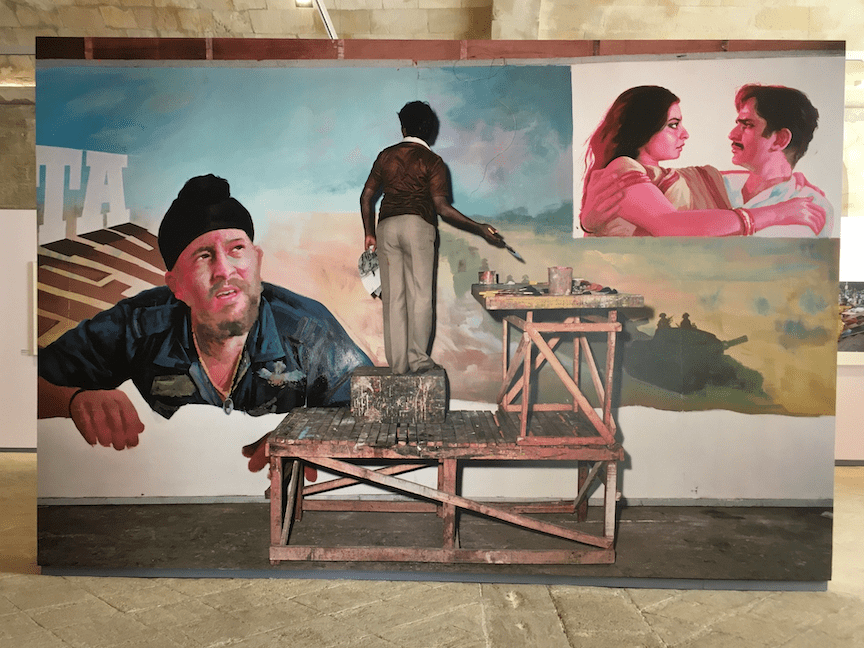 Wall-sized photo at entrance to Mitch Epstein's In India 1978-1989 exhibition, Abbaye de Montmajour
(photo by author)
The other exhibition in the Abbaye was Theatre on Earth by the 26 year-old Chinese multi-disciplinary artist Wang Yimo, winner of the 2021 Jimi-Arles Discovery Award, a site-specific portfolio set in a deserted power plant integrating animation, performance and video installation into "a polyphonic performance" … which I failed to find. The award is co-sponsored by Beijing's Three Shadows Photography Art Center, run by the wonderful conceptual photographic duo of RongRong and inri, whose work I have long admired. (www.rencontres-arles.com/en/expositions/view/1064/wang-yimo)
In the early years the Rencontres was called les Rencontres Internationales de la Photographie, but either the effort of actually being international, political pressure from the town, or the unfortunate acronym R.I.P. eventually led to renaming it les Rencontres d'Arles. "Rencontres" usually translates as "Meetings" but you'll recognize the word "encounters" after the "R" so think repeated encounters. This year I noticed the fuller title in use of les Rencontres de la Photographie d'Arles.
Arles is an ancient town on the Rhône River, near its Delta in Provence in the south of France. A Roman garrison town it commanded the pontoon bridge leading to the provinces in Spain and so became a crossroads and an important town culturally, with an amphitheater (l'arenne), theater (theatre antique) and eventually baths. It also was important in Medieval times, with a small palace for the Archbishop and lovely small cathedral and cloisters. It's probably best known in recent times as the place van Gogh painted most of his paintings, the home of the Gypsy Kings, and the birthplace of fashion designer Christian LaCroix. Its newest claim to fame is as the site of architect Frank Gehry's new LUMA Foundation building – more on that later.
It's also the largest city in France (by area); Paris, with its nearly 13 million inhabitants, is barely a fifth the size. This is because included in Arles's legal limits is the bulk of the Camargue national park covering most of the large Rhône delta as it divides to meet the Mediterranean. The Camargue is home to famous wild white horses and the French cowboys who tame them (called Guardians), brilliantly pink flamingos and pink salt flats, and red Camargue rice. The picturesque, ancient town center is small, traversable in 15 minutes (not including adjacent neighborhoods which also play a part in the festival), and bustles with exhibitions, both those of the Rencontres itself (around 50), those of the successful Festival Off (perhaps 100) and numerous pop-up exhibitions around town. This year I noticed a profusion of these short-term exhibitions. Not only do they fill previously empty storefronts and houses, but now owners of working businesses and occupied homes are taking a July break from the heat and clearing out their spaces to rent for these profitable, quickie exhibitions, some quite carefully and elaborately designed.
There were also about 15 Rencontres partner exhibitions in various cities in the region, like Aix, Avingnon, Marseille, Nimes, Sant-Remy and Toulouse, united under the banner of "Grand Arles Express." Initially I thought this meant there'd be a train to these sites, but that proved only wishful word association. I'd like to have found my way to include Tom Wood's Every Day is Saturday in Mougins and Sam Contis' Transit in Nimes but I ran out of time. Many years ago A.D. Coleman, the dean of American photo critics, wrote that I was the only person he knows who actually manages to see every exhibition in Arles for the Rencontres. That was true when most of the exhibitions were Rencontres exhibitions and even also later of the Festival Off exhibitions. But the current proliferation of exhibitions in the town makes even contemplating seeing all of them prohibitive. Additionally the heat deterred trying to get to too many places (even figuring out how to get to them generated perspiration). So I'll cover only some of the highlights for me.
The first highlight occurred that first full day, visiting the Lee Miller exhibition curated by Gaëlle Moret in the Espace Van Gogh, the former Hospital where van Gogh was treated in the winter and spring of 1888-89 (before voluntarily entering an asylum at Saint-Rémy-de-Provence). The exhibition focused on Miller's professional photographic work between 1932 and 1945. For many years Lee Miller was best known as the model and muse for the American-in-Paris artist Man Ray (Emmanuel Radnitzky) who married and photographed her from 1929 into the mid-1930s. In Britain, she also was known for her gourmet cookbooks, later in life. In recent decades her reputation has exploded as the photographic collaborator and competitor of Man Ray (even discovering the solarized photographic process which he named for himself: the Rayograph), a ground-breaking model for Vogue in the late '20s (Vogue's representative of "the modern girl" and for two years America's "most wanted" model), a surrealist artist photographer, and a WWII war corespondent (both photographer and writer) covering stories such as the London blitz and the liberations of Paris and the concentration camps at Buchenwald and Dachau. In the 21st Century Lee Miller has become a feminist icon known well beyond the confines of a single life. The Arles exhibition explores Miller's work as a fashion and commercial studio photographer in the US and UK and the later war photography.
Lee Miller, studio self-portrait, 1933
Credit for Miller's historical ascendancy is due largely to the dedicated work of the Lee Miller Archives, established by son Anthony Penrose (from her marriage with British surrealist Roland Penrose) and co-directed with granddaughter Ami Bouhassane. They've been mining Lee's life's work and publishing more than a dozen books and curating/facilitating countless exhibitions worldwide, both of which's numbers continue growing. I've got to know both as friends through the Oracle meetings of international photography curators (the next of which, Oracle XL, will take place In Cincinnati in late October 2022).
I was reading a displayed series of letters between Condé Nast, Vogue's founder and publisher, and Lee Miller – memorably noting his offer to pay her 10 Pounds for one of the war stories, plus "an additional 5 Pounds for wear and tear" – when I heard another voice saying "Hi Bill," only this time there actually was someone behind me; it was the aforementioned Tony and Ami. Ami had a scheduled interview with a French publication so Tony and I toured and discussed the exhibition, expressing similar, largely favorable, opinions. Ami joined us later for lunch and I learned she's planning to come to Cincinnati in October for Oracle XL.
Earlier, navigating the streets of the ancient town, I noticed every other person seemed to be staring at their phone's GPS mapping to guide them where they needed to go. I realized that my 40 years of knowing these streets better than even my own home city of Cincinnati was no longer particularly purposeful. I mentioned the feeling to Ami and Tony, and they immediately showed me a photograph of Lee Miller visiting Arles in 1976 (also my first year in Arles and, I learned later, Lee's last before she died) and said they'd been looking everywhere trying to find where it had been taken. I stared at it for at least a minute when suddenly the arched doorway, the curve of the street in the background, even the 45º angle of a nearby stone wall all fit my memory of a particular place. "Do you want to go there now?" I offered. They did, and we did. My accumulated visual memory of Arles had become exactly what was needed (Of course there's probably an app which could have done it too.)
It was the same courtyard in which I, as a 28 year old photographer, critic and curator, had reviewed photographers' portfolios 46 years before. Now it was a posh hotel courtyard filled with the tables of diners at the hotel's restaurant. We decided to re-stage the photo, for some reason with me serving as Lee. A hat, two bags, an umbrella (too big, borrowed from the restaurant). When I told the young server what we were doing, she knew the name immediately, "Ah oui, Lee Miller!" Unfortunately, standing in exactly the right position would have meant Tony sitting on two diners' table. A couple days later I contacted Tony to suggest we try again, not during restaurant dining hours and using Ami, Lee's granddaughter, in place of me… but they had already returned to England.
Lee Miller in Arles, 1976; the author as Lee in 2022 (with my hat, Tony's cap, Ami's bag and the Hotel Arlatan's umbrella); photo by Anthony Penrose.
The evening presentations on the night of the 5th were one of the main reasons I wanted to attend the 2022 Rencontres. These events take place in the ancient Roman open-air theatre, in which is erected a giant screen for projections. Up tp 8,000 can sit in the theater, which dates from the time of Augustus. The evening schedule included the Prix du Livre awards for best photobooks; the Prix Women in Motion award for photography; an Homage to Olivier Etchevery, the Rencontres's exhibitions designer for 21 years who died unexpectedly that March; and a presentation about the Kharkiv School of Photography in the Ukraine. The evening would be topped off with a live musical performance celebrating the Polynesian "Night of the Wandering Spirits."
The Women in Motion award went to NYC-based filmmaker Babette Mangolte, who mostly occupied herself with photographing dance. The Book awards were divided into three areas: Author, Photo-text, and Historical and can be found here: www.rencontres-arles.com/en/prix-du-livre/.
The Homage to Olivier Etchevery was presented by former Rencontres director François Hébel, and was very moving. Etchevery reinvented how photographic exhibitions could be presented in Arles; particularly celebrated were his transformations of the abandoned SNCF locomotive workshop buildings on the edge of Arles. The homage was particularly affecting for me as I was currently sleeping in Olivier's bed from previous years. I had paid for an apartment advertised on-line, the lone one I could find as all hotels were full, only to hear from its owner the following week that its listing had been a mistake: the apartment is always rented to the Rencontres exhibition designer Olivier Etchevery and is not available. She was very apologetic and would help me to get my payment refunded. But as I now had no place to sleep I was thinking I probably would not go after all. Then a few weeks later the Rencontres sent out a bleak press release surmounted by large black text reading "Olivier Etchevery: 1952 – 2022." I forwarded the release to the apartment owner, knowing she'd had a long relationship with Olivier, and she was vacationing in the mountains. She wrote back to say yes she had heard and it was very sad, and, by the way, the apartment is available now. It was more of a house than an apartment and far more than I needed, but I grabbed it.
I was particularly interested in the Kharkiv School presentation. Kharkiv is a Sister City of Cincinnati (they say "twinned-city") and in 1991 Cincinnati's Contemporary Arts Center presented an exhibition grandly titled Contemporary Soviet Photography which was in fact just three photographers from Kharkiv. Foremost among them was Evgeniy Pavlov, a co-founder of what is considered the Kharkiv School of Photography (whose most famous representative worldwide is Pavlov's longtime friend Boris Mikhailov). Pavlov is a remarkably inventive, conceptual practitioner whose work turned on its head the prevalent (required) social realism of the Soviet era. Since encountering his work in '91 I've wanted to expose it to a wider audience by presenting it with Mikailov's. I learned only rather recently that this idea was actually realized in 1993 at Galerie Lichtblick in Kôln, German (the gallery run by Wolfgang Zurborn and partner Tina Schelhorn… small world). The 72 year-old Pavlov was to be the presenter with his wife Tatiana and I didn't want to miss it.
Evgeniy Pavlov, from Total Photography, 1990-94
The Pavlovs managed to escape Kharkiv – by then nearly destroyed by Russian attacks – having to leave behind hundreds of photographs, and were staying in Graz, Austria. They were welcomed warmly by the audience in Arles. This very important presentation was marred only by the person supposedly translating for the Pavlovs, a young curator from Centre Pompidou in Paris (Nicolas Liucci-Goutnikov) who was reading from a text pre-translated into French (then simultaneously translated into English via the headsets). When Pavlov added long, passionate personal thoughts, Liucci-Goutnikov's Ukarinian/Russian was not up to the task and he kept apologizing in French. Perhaps only Tatiana next to him knew what Evgeniy was saying, but the thousands of us gathered in the ancient theatre did not. Why the Rencontres couldn't have hired an actual French-Ukrainian translator for a day or two, I don't understand (perhaps they thought they had).
The morning of the 6th began with three scheduled events, all of which I wanted to attend, but all at the same time in different places. One was a panel discussion with Catalan photographer Joan Fontcuberta. I showed Fontcuberta's work when I was a gallery director in Wales in the early 1980s and we've been friends ever since. He's one of the most stunningly inventive artists in any medium, but in particular regarding photographic ontology and authenticity.
The second was an exhibition tour with Susan Meiselas, the brilliant photojournalist and documentarian responsible for (in my opinion) one of the most extraordinary and selfless undertakings in the history of the medium: her monumental project Kurdistan: In the Shadow of History, a resurrected visual history of a country no longer on the map, which gives form to the collective memory of the Kurds (the world's largest ethnicity without a state) and creates from scattered fragments effectively a living national archive. I am in awe of her and her achievements. Unfortunately this also was not the one I chose, although I did get to speak with Susan briefly. We'd met once, in her studio in the mid-'90s while she was working on the Kurdish project. Somehow, here in Arles, she remembered: "Bill, right?" then introduced me to a friend as "Bill Mesmer." Close enough.
I chose the third contender, a discussion titled "Ukraine-India. Documenting a society. Changing the Gaze." A mash-up if ever there were one. The moderator from Le Point did his best to build connections between the artists and their work but it was pointless. Still, I found Epstein to be a remarkably thoughtful and lucid verbal contributor when his turns came. (Speaking with him afterwards I learned he'll be coming to Cincinnati for the opening week of FotoFocus in October in support of a Kevin Moore curated exhibition at the Contemporary Arts Center). The same translation problems plagued the Pavlov's contributions, and they had to wrap early to catch a plane. I had just a few seconds with them, giving them a couple small gifts. Their rather somber visages during the two days broke into big smiles when they learned I was from Cincinnati, a city which has been very receptive to their work from early on. Then they were gone.
"Ukraine-Inde" discussion: Evgeniy Pavlov speaking; Mitch Epstein at far left listening to translation (Photo by Author)
2022 was a record-breaking hot year in western Europe but mercifully not too bad my first week in Arles (the second week we were hitting 105ºF) Unfortunately I never found a place on-line for renting a bicycle locally (only to discover how to do it the day I left Arles, so, maybe some other year). It takes a lot of walking to see all the exhibitions, talks, conferences, films, et al. Fortunately Arles is a fairly small town (for the largest city in France). at least the picturesque old city dating from Roman times and earlier. There also were exhibitions in the adjacent, funky Roquette district and also on what is now called a "campus": the site of the former SNCF railroad workshops, some of whose buildings have been converted to exhibition halls, and the recently opened LUMA Foundation building, designed by Frank Gehry.
There was much excitement about this building early on, as I'm sure there were high hopes for its eventual economic impact on the town; but I doubt the Gehry building can do for Arles what his Guggenheim Museum did for Bilbao – another aging, former industrial town, in the Basque region of Spain. It certainly makes a statement and attests to an intention by Arles to more fully engage art and culture.
It's a peculiar structure (and, for me, rather unsatisfying), looking like a 1950s Modernist round base with an abstract expressionist sculpture mounted atop it, remarkably like what I assumed was the crumpled up aluminum foil vision that the original Gehry drawing represented. (I saw it; it's just scribbles.) It's what is called the tower that's most visible from a distance, shimmering blindingly in the sunlight.
Fondation Luma, Aires, 2022 (photo by author)
LUMA is the inspiration of Maya Hoffmann, art collector and heir to some portion of the Hoffman-La Roche drug company fortune. It's a Swiss-based foundation supporting the work of independent contemporary artists. In Arles, Hoffmann wanted to create an experimental cultural complex in the Parc des Ateliers (Workshops Park) for the production of art exhibitions, research, education and archives, People used to say she wanted the building to be tall enough for her to be able to see her house miles south in the Camargue region. In the early years of the Rencontres she held annual sumptuous meals at her house, until people started swimming naked in her pool and shaving their legs in her bedroom bathroom sink, and doing damage to the property. LUMA and les Rencontres did not always have the smoothest relationship, especially once LUMA decided it would take over the large workshop halls in which the Rencontres had done the work and put in the expense of re-imaginging as dedicated exhibition spaces. Things seem better recently, under subsequent Rencontres directors. There was even some sharing of the atelier spaces.
One of the exhibitions in the LUMA complex was given over to the 93 year-old Ghanaian portrait and press photographer James Barnor (also celebrated in the Roman theatre the night of July 8). While I enjoyed the exhibition generally, the photographs themselves were often of less interest than their photographer's life, working in Africa and the UK, a condition reminiscent of numerous African studio and street photographers heavily promoted in recent years whose work has been primarily of interest ethnographically rather than photographically (i.e. as an art medium). And there's always the issue with photographic portraiture of whether the importance lies with the photograph or the subject. I think the power of African photography has yet to emerge and will come from younger practitioners.
The galleries in the LUMA Tower also included a video installation by Rachel Rose (Everything and More); a 3-D film Nightlife by Cyprian Gaillard (shot partly in Cleveland, Ohio); a mixed-media installation by Julien Creuzet, the Martinique-born French artist; a virtual-reality piece by Dominique Gonzalez-Foerster, and a selection from Maya Hoffmann's own LUMA collection entitled The Impermanent Display II. The selected pieces from the collection included portions of Urs Fischer's Untitled 2011-2020 monumental sculptural installation carved in wax, including a full-scale reproduction (base and all) of Giambologna's 16th century Rape of the Sabine Women, actually a giant candle burning and incrementally melting before the viewer's eyes (now reduced to only the rapists, as the struggling Sabine has melted over them). I'd initially seen the piece the previous year at the stunning Bourse de Commerce (old stock market) art space in Paris, commanding its giant rotunda, as part of the Françcois Pinault Collection. This was the same piece (and pieces), slightly further melted, but now identified as part of the LUMA Collection. There must be a story there.
Urs Fischer's wax monument/candle from Untitled 2011-2020
(at Bourse de Commerce in Paris, November 2021, photo by author)
One of the exhibitions sharing the copious spaces of the converted Ateliers de Forge buildings (in this instance, the Mecanique Generale) was titled A Feminist Avant-Garde: Photographs and Performances of the 1970s from the Verbund Collection, Vienna, with over 200 works by 71 female artists examining/questioning the cultural "construction of femininity", the result of 16 years research. I accompanied a large audience through the exhibition while it was discussed by its curator, Gabrielle Schor. She'd divided the works into five themes: women's reduction to "wife, mother, and housewife"; their resulting feeling of "being locked-up"; the questioning of "dictates of beauty and representations of female bodies"; explorations of "female sexuality"; and debates around "female roles and identities." It seemed a quite comprehensive assembly, from Antin to Woodman (actually from Almeida to Želibská), although there were a few artists/works I looked for but didn't find (perhaps they weren't from the '70s), and some of the pieces weren't actually from the '70s (like ORLAN's 1966 nude self-portrait crawling out of a gilded frame). Several of the exhibited artists themselves were present, enjoying the retrospective attention 50 years on.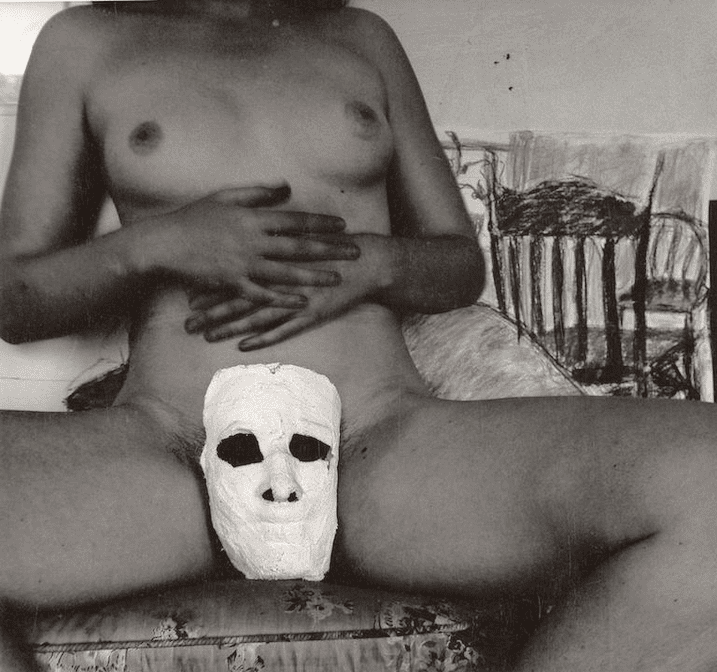 Francesca Woodman, Face, Providence, Rhode Island, 1975-76
from A Feminist Avant-Garde. Photographs and Performances of the 1970s
from the Verbund Collection, Vienna
Additionally, the esteemed École Nationale Supérieure de la Photographie (National School of Photography), which grew out of the Rencontres' workshops program and into its own buildings (near the house of Rencontres' principal founder, local photographer Lucien Clergue), have now built their own dedicated facility, just across Avenue Victor Hugo from the LUMA campus. Both doubtless shift property values markedly toward the town's eastern periphery. I saw an interesting exhibition there titled Carmen (repetitions) by Estefanía Peñafiel Loaiza, which grew out of a teaching residence. The exhibition charts the artist's journey from Ecuador to Italy, following the ghost of her aunt Myriam. Myriam disappeared in her teens leaving letters saying she had left to study in Rome, while in fact she had taken the name Carmen and joined an insurgent revolutionary movement. The letters were a carefully orchestrated ruse to conceal her whereabouts. The letters stopped when Carmen was killed by government troops at the age of 25. Loaiza explores the possible stories of both her actual and fictional aunt, recreating her real and fake journeys.
Every day there were discussions, conferences and round tables on a variety of subjects of concern to the field, most of which I skipped as they're always in French and even when translated the translators have trouble keeping up. Also, I knew most of them would be recorded and available to view later (https://www.rencontres-arles.com/en/actualites/view/667/opening-week) and I wanted to see more exhibitions. Of particular interest to me was the evening program for the night of the 7th: LUMA was presenting its "Dummy Book Award 2022"; Sally Mann was being presented the Pix Pictet for her Blackwater series; and there was the Photo Slam featuring work by younger photographers, some from the ÉNP (the photo school) and including young Ukrainian photographers. Unfortunately, when I arrived, I learned the town had decided at the last minute that the winds were too strong and the 40' screen was in jeopardy of blowing down, so the evening was cancelled. When you don't speak French you ofter don't catch wind of this sort of information. I managed to catch most of another outdoor event, the screening of Quebramar, a new documentary film about a group of young Brazilian lesbians bonding on a remote beach, and Lover Other, Barbara Hammer's 2006 doc about the French surrealists Claude Cahun's and Marcel Moore's co-habitation during the German occupation on the British island of Jersey.
The cancellation of the principal evening in the Roman theatre meant the program for the 7th would now be combined with the program for the 8th and would last well into the early morning hours. I also learned that my obtained-with-difficulty ticket for the program of the 7th would not be honored the following night as there was not enough room for both audiences. As this seemed screwed up to me, much of my time the afternoon of the 8th was spent trying to alter that state of affairs. About an hour before the program,, Sally Mann texted to say she would have Pictet place me on their attendees' list. But, in the end, it wasn't necessary, as the person taking tickets hadn't gotten the message not to accept my ticket for the previous night. I found a stone seat two rows from the front, off to the side. Turned out I was just across the aisle from the reserved seats and Sally herself, so I was able to thank her and chat a bit, as the sky grew darker. I had exhibited Mann's Immediate Family work at Cincinnati 's Images Center for Photography in 1990 during the furor over the Mappelthorpe exhibition at the Contemporary Arts Center. We've been friends and correspondents ever since. It was rare for her to be here in Arles to give a presentation as she has confided to me in the past that she hates traveling, so this must have been a singularly important moment for her.
The LUMA Rencontres Dummy Book Award for 2022 was presented for Hoja Santa by Maciejka Art from Mexico (interestingly the Special Mention also went to a book from Mexico, El Retrado de tu Ausencia by Alehandro Luperca Morales). The Madame Figaro Arles Prize was won by Amina Kadous for her exhibition Or Blanc (White Gold) as part of If a tree falls in a forest. The Louis Roederer Discovery Awards also were presented, with the jury award going to American Rahim Fortune for his exhibition I Can't Stand to See You Cry (with the Special Mention to Olga Grotova for Our Grandmother's Garden) and the Public Award received by American Mika Sperling for her exhibition in Arles I Have Done Nothing Wrong. All these awards include cash amounts varying from 5,000 to 25,000 Euros.
By then it was dark and a single projection spotlight illuminated the microphone for Sally Mann who stepped into it and began reading a prepared text. The huge screen behind her glowed with images from Blackwater (2008-2012), her large format, tintype documentation of the Great Dismal Swamp in south-eastern Virginia and North Carolina and the wildfires that have devastated it. The swamp is near the site of the first slave ships to dock in North America and had long been a treacherous refuge for escaping slaves. Mann saw it as "a vessel for the memories of the complex struggles enacted upon it." She also saw metaphors in the burning swamp for the American South itself, long burning with racial tensions. It was a classic Mann text, beautifully written, poetic, perhaps read a bit to quickly, and doubtless a nightmare for the translator, with words like "fetid," "slithering," "scraggly," "humdrum," "flim-flam," "milkily," "plucky," "snoot-cocking," a "gusher-load," "moist refulgence" and "indolic whiff" that could challenge even most native American speakers. Her talk connected her photography and being a photographer to the larger issues of southern identity and its overarching history of race. You can hear her presentation here: https://prixpictet.libsyn.com/rencontres-darles-sally-mann (and find the instagram ebook with her accompanying images).
Sally Mann's Prix Pictet presentation of Blackwater at the Théâtre Antique, Arles, 2022
(photos by Rencontres d'Arles and author)
Sally left just after her presentation and so missed a host of younger photographers who took the stage of the Théâtre Antique "to tell [illustrated] stories about an unforgettable encounter, a consuming passion, or investigation undertaken for the first time… 100% untold, 99% true." Their presentations were less polished than hers but every bit as eloquent, moving and engaging.
By now it was early A.M. and the hard, uneven stone seating demanded my getting up and going home. It was the beginning of the last full principal day of Rencontres. I decided to take things a bit easy and basically wander, visiting exhibitions I still hadn't seen and popping in to see people I'd met this year – like the students from the Ostkreuzschule (East Cross photography school) in Berlin, who'd set up an exhibition on the same street as my apartment, or the woman whose Dark Feminine posters were ubiquitous on the walls of Arles, Daria Nelson, arranging her erotic self-portraits in what in other months is a mosaics shop.
Daria Nelson in her pop-up exhibition/boutique Dark Feminine
Also, on the major pedestrian shopping street, the Rue de la République, was the 17th century l'Église des Trinitairesin, one of several abandoned churches in Arles. I'd passed it many times assuming I'd see the exhibition inside at some point. Installed inside was Noémie Goudal's Phoenix, including ten foot tall video projections of a swamp "breathing" in Inhale Exhale, while in Below the Deep South, 2021, a taped enactment of similar sized, multi-layered and segmented photographs combust into flames to reveal behind them yet other photographic realities, which in turn burn and peel off in strips. The exhibition is the result of several years of Goudal's research into paleoclimatology, presenting an intersecting of the actual and the fictive. There also was a related performance at the Collection Lambert in Avignon, for two days only (too much to see, too far to go).
Noémie Goudal, film still from the video Below to the Deep South, 2021.
(Courtesy of Les Filles du Calvaire gallery and the artist)
The final night, Saturday, July 9, was capped with a massive happening called Nuit de l'Année (Night of the Year) taking over the abandoned Étienne paper mill across the Rhône in the Trinquitaille district of Arles. A bus took visitors partway, then another kilometer's walk brought you into a conglomeration of projections, from the size of large walls to moderately large video monitors, over 40 in all, most running several presentations in repeating loops. It would require many hours to see them all; I spent about three. It was difficult to keep track of which was which in the darkness. One I remember enjoying particularly was Dynamic Drills by Emmaline Zanelli (30'), an MFA student at Photography Studies College in Melbourne, Australia. Emmaline and her 'Nonna" Mila interact via a series of haphazard home-made contraptions and gestural exchanges that each draw from Mila's history as a factory worker across multiple industries throughout her life, with an Italian narration reminiscent of industrial training films, enhancing a surreal vibe (you can watch it here: https://vimeo.com/733159455). And once again I was quite moved by a group of projections dedicated to Ukraine: the cinematographic community Babylon 13's Fortress Mariupol, based on video calls from Ukrainian solders defending the city; Eric Bouvet's strong photojournalistic recording of the war; and a collection of selections from the Odessa PhotoDays Festival. There were also live performances, DJ sets, food trucks and bars. It's one of the Rencontres' signature events.
Sunday brought "the closing of the opening week" and the crowds thinned out dramatically. Familiar faces had already disappeared. It was going to be another warm day, in the 90s by lunchtime, topping out at 96º F (36ºC) by 3 or 4 PM. 102ºF was predicted for later in the week (it actually hit 105ºF, breaking the record high for July, set in 2018). Wisely, after last night's late night, the morning talks in the bureau's courtyard were pushed back to 11 AM. But it must have been a late night for the staff as well, as while people milled around waiting, munching on provided apricots and plums, it apparently was decided not to have a talk. Rencontres Director Christophe mostly sat at a round table surrounded by the French press, answering their questions while they scribbled in notebooks, but the usual translated public recap of how the week went (as well as the customary summational press release) was missing. I can tell you only that just under 19,000 people attended the opening week.
Les Rencontres de La Photographie is one of two major festivals (with Houston's FotoFest) used as models in the creation of Cincinnati's FotoFocus Biennial (now one of the largest photo-biennials in the world). Two key aspects of les Rencontres which remain absent from FotoFocus are both more pedagogical aspects: the workshops and the portfolio reviews. When les Rencontres International de la Photographie was founded in 1970 it relied on then ubiquitous American photography workshop programs as models, like New York's Apieron Workshops and the Maine Photographic Workshops. This is what initially drew major figures in the medium to Arles, and their presence in turn attracted not only eager young photographers but often their established peers wanting to hang out and network with them. They were the initial heart of les Rencontres.
Imagine drinking at cafe tables with W. Eugene Smith, wandering Arles' streets at night with Yousef Karsh, being photographed nude by Eiko Hosoe, listening to Duane Michaels wax poetic, just talking to André Kertesz, all things that happened to me my first year in Arles for Rencontres (among many more unremembered). It was like living in the history of photography.
The workshops this year were almost exclusively French (French photographers and/or conducted in French) and fewer in number than in recent years. Also, there seemed to be more emphasis on commercially orientated work, particularly portraiture.
The portfolio reviews were already well established by the time I arrived in 1976, the key presence being that of Jean-Claude Lemagny of the Bibliothéque Nationale de France (the National Library), who was not only an engagingly astute and supportive reviewer but often purchased work for the Bibliothéque's collection (even that of non-French artists, sometimes using funds from his own pocket). He particularly liked encouraging young photographers (he bought my work for the collection, for instance). The model then was different than the one used by Houston, and is still the one I prefer. Many photographers would gather around Lemagny's table while he considered the work of one of them; all benefited from his insights, not only the one whose work he discussed. And he used as much or as little time as he felt necessary with each photographer (none of this whistle blowing every 20 minutes, as is the model currently in use at les Rencontres and most photo conferences). It's essentially the model I still use for the open critiques at Iris (although I encourage input from everyone around the table, so that the photographers are as much talking to each other as listening to me).
I've never taught a workshop for the Rencontres but have reviewed portfolios for nearly all of my 40 years participating. As I mentioned, this year I was not one of the Photofolio Review "experts" (that's what we're called). I don't know whether they're in my future again or not, although I enjoy doing them and am good at it (according to the recipients). Additionally, a significant number of the photographers whose work I've presented in exhibition in the US were first encountered in Arles, often in reviewing their work. So I do hope I'll be asked again.
Meanwhile, after nearly an hour of expectant isolation awaiting a closing talk, I walked out of the Rencontres courtyard into the street, regretting the absence of the cart that had parked there daily, pressing fresh orange juice, when someone touched my arm from behind. It was Mika Sperling, shortlisted for the Madame Figaro prize the night before and winner of one of the two highly coveted 2022 Louis Roederer Discovery Awards. We'd met briefly in the Roman theatre when she introduced herself to Sally Mann as a friend of photographer and teacher Linda Conner. I'd been Conner's teaching assistant in 1971, her first year teaching at the San Francisco Art Institute, and learned Mika also had been Linda's TA, 45+ years later. She said she'd guessed that I was from California (that surprised me). I also learned that she's of Russian origin, German upbringing, and had been an undergraduate student at The Ohio State University in the mid-2010s, winning a full scholarship there and later a Fulbright to study at SFAI. She told me she'd learned English by watching American movies while living in Germany (her American is quite good). It was her final day in Arles and she was looking every which way for people she needed to connect with (particularly the curator of Mika's Discovery Award exhibition, to give her a copy of her newly printed book) while her phone was blowing up. But then she would become exceptionally focused when addressing a question from me or expressing a viewpoint.
She'd won the public Discovery Award on the strength of her exhibition I Have Done Nothing Wrong just around the corner in the Eglise des Freres Presheurs. The work address incestuous transgressions committed by an older family member and is organized into three parts: five photographs produced in collaboration with the artist's daughter on the road from her childhood home to that of the perpetrator; then, carefully cutting him out family photos; and finally, a fictive scenario between her deceased grandfather and a young woman artist looking for answers. Sometimes you can feel when someone is going to thrive artistically; I sensed this with Mika. (You can see the work of all ten finalists here: https://www.rencontres-arles.com/en/expositions/)
Mika Sperling, Cut-outs of my grandfather I don't want to look at, 2001
My plan was to spend another week in Arles to see as many of the exhibitions as possible that I had not yet seen, and I still hadn't seen even all the principal Rencontres exhibitions. One exhibition on my list was in the tiny medieval St. Blaze church at the highest point in Alres,  Susan Meiselas & Marta Gentilucci's Cartographies du corps, focusing on the lives and bodies of old women. Unfortunately, the woman at the door scanned my press pass then informed me that  my pass stopped being accepted the day before and I could not come in. By the time I'd straightend out that problem, the day was over. I never made it back.
The rest of that week is something of a blur. I saw as many exhibitions as I could, revisited the LUMA Foundation and campus, where one night I saw a contemporary opera based on Moby Dick, and made an unsuccessful attempt to visit the satellite exhibitions in Avignon and Aix.
The second week of July almost always ends with a celebration of the national holiday on July 14th, also referred to as Bastille Day. Thousands of people from the surrounding small towns and farms pour into Arles to line the river banks in anticipation of the night's fireworks and dancing. Knowing this I made my way to the Rhône early to get a seat on the low wall just above the river. There were young people gathered below me speaking English and also mostly couples walking along the walkway, but not an exceptionally large number gathering yet. As I sat there I was able to help some French-speaking tourists identify the nearby Baths of Constantine and provide the dates (4th century I told them – I hope that's right). But mostly I just looked along the river as the sky slowly darkened. Finally I realized there still were nowhere near the numbers there should have been. I asked an Arlesian woman passing by and she informed me the celebrations had been cancelled due to the risk of fire (this happened all over the south of France in 2022). So I headed back to my apartment to apply myself to writing this report. There are worse ways to blow and hour than sitting on the edge of the Rhône in Arles as the sky darkens, not far from where van Gogh painted his first Starry Night (I wonder whether he got the idea from watching the fireworks there one July 14).
Vincent van Gogh, Starry Night over the Rhône, Arles, 1888
William Messer is a photographer, curator and critic based in Cincinnati, Ohio. He has written for numerous publications in a dozen countries and curated/ organized more than 100 exhibitions presented in nearly 40 countries. For the past 14 years he has curated photography exhibitions at Iris BookCafe and Gallery in the Over-the-Rhine neighborhood of Cincinnati. He currently is a Vice-President of l'Association International des Critiques d'Art (AICA) in Paris and founded its Commission on Censorship and Freedom of Expression.