What a surprise and treat that Visionaries and Voices Arts Organization has designed a celebratory festival featuring puppets.  Who hasn't put their hands in a sock puppet as a child or seen the Muppets on TV? We loved puppets as children and this extravagant program of free puppet-making workshops that started in late September in collaboration with their puppet festival and exhibit SHOW OF HANDS is upcoming in October. The workshops are led by 10 artists, some local and some international, and are meant to inspire the local Cincinnati community to participate in and enjoy the magic of puppetry! Visionaries and Voices is a Cincinnati arts organization promoting inclusive artmaking and providing opportunities to adults with disabilities. Throughout the year they put on meaningful exhibits, programs and workshops.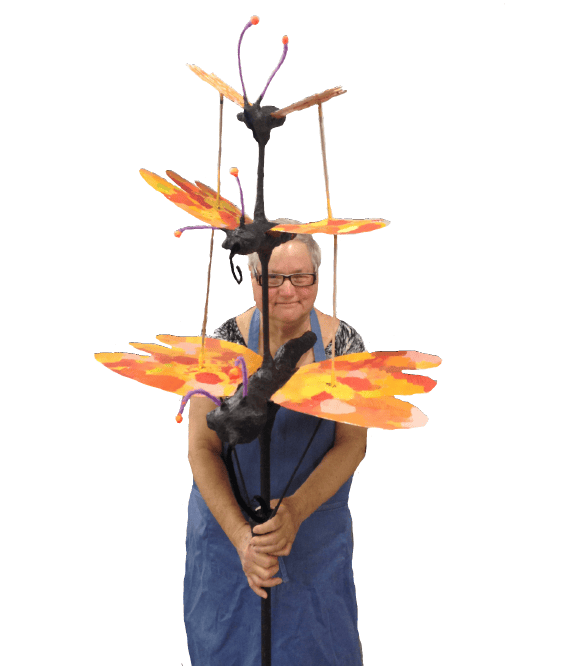 Festival Overview:
SHOW OF HANDS Puppet Festival debuts in Cincinnati, September-October 2023.The festival features workshops, performances, and an exhibition to inspire our community to make their own puppet shows and experience the many forms of puppetry. SHOW OF HANDS Puppet Festival has paired ten teaching artists with Visionaries + Voices artists to lead workshops hosted at art hubs across our city. The 6-week workshop series will culminate in the SHOW OF HANDS Puppet Slam and a weekend of raucous music, puppetry performances, and a pageant parade October 11th-14th! Come to one workshop, come to all, you will have the opportunity to share your creation in the SHOW OF HANDS Puppet Slam or the Puppet Cabaret.
SHOW OF HANDS Puppet Festival is a product of the dreams of the V+V Puppet Committee, made up of Visionaries + Voices current and former staff, V+V artists and community artists: Lizzy DuQuette, Courtney Combs-Mock, Seana Higgins, Karen Boyhen, Julia Lipovsky, Robyn Winkler, Morgan McKnight, Sophie Harrison, and Linda Kunick. This committee took every connection, used every resource, and secured funding through grants to eliminate cost for participation at all puppet festival events.
The festival is presented by Visionaries + Voices, an inclusive arts organization providing creative, professional, and educational opportunities for adults with disabilities. Visionaries + Voices (V+V) began in 2003 when a dedicated group of social workers and artists dreamed of a place where artists with disabilities could be encouraged and supported. They eventually leased studio space in Cincinnati's Northside neighborhood to accommodate a growing number of artists – from 3 to 30 within two years. Since that time V+V has continued to expand, and today supports over 120 artists with disabilities each year at two locations (Northside and Tri-County) taking a message of disability inclusion to over 5,000 community members through exhibitions, school and public education programs. V+V artists actively contribute to the greater arts community through creative, educational, and strategic partnerships with local and regional artists, schools, and business leaders. Collectively, we are growing a more inclusive arts community in Greater Cincinnati.
We hope that you will visit this exhibition, starting with an opening event on October 12th from 5-8PM at the Visionaries + Voices Northside Gallery at 3841 Spring Grove Avenue. At the opening, catch Emily Schubert's shadow play UAP or the Unflappable Aunt Pat, whichexplores space, UFOs, and the great beyond. The exhibition is open from October 12th until November 17th. You don't want to miss this show.